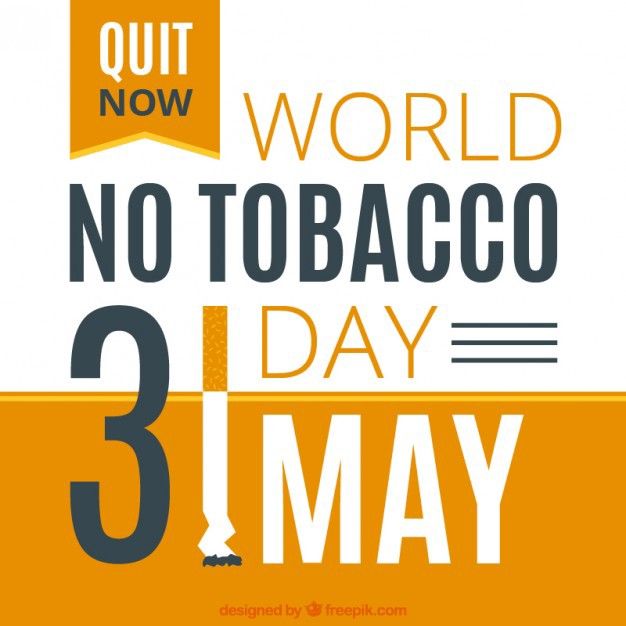 World No Tobacco Day - May 31

Tobacco products kill over 8 million people each year. Its production also adversely impacts the environment. The cultivation, production, and shipping of tobacco products contribute to consumer waste, water depletion, and increased greenhouse gases. 
May 31 is World No Tobacco Day 2022, an annual campaign by the World Health Organization (WHO) that draws attention to the negative impacts of tobacco use and the benefits of smoking cessation. This year's theme, "Tobacco: Threat to our environment," raises awareness of how tobacco contributes to climate change. 
World No Tobacco Day 2022 
About 480,000 people in the United States die from cigarette smoking each year, and tobacco puts an economic strain on our country's healthcare system. The United States spends over $300 billion annually on medical costs related to smoking. 
Environmentally conscious smokers might see climate change as an added reason to consider quitting smoking. This year's World No Tobacco Day theme—Tobacco: Threat to our environment—highlights how the tobacco industry exerts undue and irreversible pressure on our ecosystems. 
Tobacco companies expel 84 megatons of carbon dioxide into the atmosphere, increasing greenhouse gases. Approximately 350 million acres of land each year undergo deforestation for tobacco growing, and about 600 million trees are cut to manufacture cigarettes, requiring about 22 trillion liters of water. 
Tobacco production disproportionately affects the economic well-being of the developing world, where about 90 percent of all the world's tobacco comes from. Farmers in these countries see tobacco as a profitable cash crop. However, what growers make from their labors pale compared to the increased food insecurity, illness, poverty, and debt. 
As part of the World No Tobacco Day campaign, the WHO calls on leaders and policymakers to strengthen current laws to protect against the environmental damage that tobacco production can cause. The WHO also advocates for new legislation that holds tobacco producers more accountable. 
How to Quit Tobacco for Good 
Whether you do it for yourself or the environment, it's never too late to quit smoking. Just minutes after stopping, your heart rate and blood pressure levels typically return to normal. Your body also cleans excess carbon monoxide from your blood and lungs. Over time, you reduce your risk for cancer, lung disease, heart disease, and other chronic conditions related to smoking. 
Despite what we know about the health benefits of smoking cessation, quitting can be one of the hardest things to do. To this end, the Centers for Disease Control and Prevention (CDC) launched Tips From Former Smokers® in 2012. The Tipscampaign provides stories from people who have struggled with smoking. The Tips website also offers approaches to breaking the habit, information on stop-smoking medications, and links for seeking social support. If you are trying to stop, several strategies can help you. 
Make a Decision to Quit 
It can be easier to quit if you understand why you smoke or list your reasons for quitting. If you are unsure why you should quit, ask yourself these questions: 
What am I missing out on when I light up?

 
How has smoking changed my health changed?

 

What do I hate about smoking?

 

What will happen if I keep smoking?

 

How will my life improve if I quit?

 
Create a Quit Plan 
Many people trying to quit can benefit from creating a quit plan. The CDC Tips campaign suggests incorporating the following steps into your plan: 
Choose an official quit date, ideally sooner than later.

 

Pinpoint your reasons for quitting and keep reminding yourself of them.

 

Announce your intention to quit to family and friends.

 

Get rid of things that remind you of smoking, like ashtrays, lighters, and cigarette smells.

 
Anticipate your triggers for smoking, such as certain people, activities, or places.

 

Have a plan for coping with your smoking triggers.

 

Identify people or resources you can turn to for help.

 

Plan rewards for when you reach milestones in your cessation journey.

 
Resources for Help and Support 
Having a person or resource to turn to can help you cope when the temptation strikes. The CDC provides several forms of support, including a link to SmokefreeTXT, a text messaging service available to adults and young adults. If you'd rather talk to a real person, you can call 1-800-QUIT-NOW (1-800-784-8669). At Smokefree.gov, you can download apps to help you stay on your cessation plan and monitor your progress. 
Try Stop-Smoking Medication 
Some people might need medication to quit. Medicines include nicotine patches, lozenges, or gum. Individuals might also try oral inhalers or nasal sprays. The CDC lists several options that have approval from the Food and Drug Administration (FDA). Always consult a doctor if you are considering medication, especially if you are pregnant, breastfeeding, or under 18. 
References 
https://www.who.int/campaigns/world-no-tobacco-day/2022 
https://www.who.int/news/item/13-12-2021-protect-the-environment-world-no-tobacco-day-2022-will-give-you-one-more-reason-to-quit 
https://www.cdc.gov/tobacco/data_statistics/sgr/50th-anniversary/index.htm 
https://www.sciencedirect.com/science/article/abs/pii/S0091743521001134?via%3Dihub 
https://www.medicalnewstoday.com/articles/317956 
https://www.cdc.gov/tobacco/campaign/tips/about/index.html#three 
https://www.cdc.gov/tobacco/campaign/tips/index.html 
https://www.cdc.gov/tobacco/campaign/tips/quit-smoking/guide/why-quitting-is-hard.html 
https://www.cdc.gov/tobacco/campaign/tips/quit-smoking/guide/quit-plan.html 
https://smokefree.gov/tools-tips/text-programs/quit-for-good/smokefreetxt 
https://smokefree.gov/tools-tips/apps 
https://www.cdc.gov/tobacco/campaign/tips/quit-smoking/quit-smoking-medications/which-quit-smoking-medicine-is-right-for-you/index.html