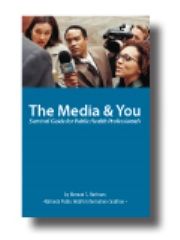 The Media and You Guide
"The Media & You Relations Guide" is nothing less than the best little guide you could ever own on how to work with the news media. It's designed to help you tell your story to any reporter. Concise and easy to read, this handbook can be found on the desks of both novice and experienced communications professionals who rely on its sage advice in their daily interactions with journalists. It's also an ideal tool for media training. Topics include The Media, Preparing for an Interview, Developing Your Message, Interviews, Dealing with Bloggers, Tricks and Traps and Legal Considerations.
   
"The Media & You Relations Guide" is authored by Norman S. Hartman, a media and crisis communication consultant with an extensive background in media, public relations and public health issues. He is also a founding member of NPHIC.
What they are saying...
User-Friendly User Guide
"The Media & You is that perfect little resource guide that does what it is intended to do --to provide the novice subject matter expert (SME) with a user-friendly media guide to navigate through the media maze and to provide more experienced SMEs with a refresher on 'keeping it simple.' It's a 'must have' for our media training."- Leslea Bennett-Webb, Director of Communications, Oklahoma State Department of Health.
Easy to Read, Small Enough to Carry
"I have found the guide to be extremely helpful for my own use or when I am giving tips to someone else who is going to give an interview. I use points from the guide when I give communications trainings and I always refer people to it as a resource. It is easy to read and small enough to carry with you." - Nicola Whitley, Public Health Emergency Preparedness Public Information Specialist, New Hampshire Department of Health and Human Services.
A Valuable Resouce
"The Media & You is for public relations professionals what 'The Elements of Style' is for writers --a valuable resource that you rely on again and again. Thank you, NPHIC!" - Ken August, Chief, Risk Communication, California Department of Public Health.