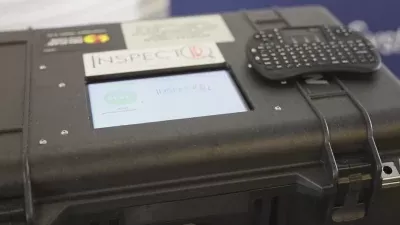 FDA Approval of the COVID-19 "Breath Test"

By this point in the COVID-19 pandemic, you may have developed an aversion to Q-tip swabs and spit vials. Fortunately, a new and even less invasive method for COVID-19 testing has just been given Emergency Use Authorization (EUA) by the U.S. Food and Drug Administration (FDA). This testing device, known as an InspectIR COVID-19 Breathalyzer, is capable of diagnosing COVID-19 using a breath sample that analyzes exhaled chemical compounds. The device's manufacturer reports that it yields results in fewer than three minutes. 
Here's what you need to know about the FDA's approval of the COVID-19 breath test, including how this novel test works, how it received an EUA, its reliability, how available the test is, its cost, and who may be eligible for the test. 
How does the COVID-19 breath test work? 
The InspectIR COVID-19 Breathalyzer device uses a technique known as gas chromatography-mass spectrometry to screen for exhaled chemical compounds in a person's breath. The device itself is the size of a piece of carry-on luggage, and each device can currently test 160 breath samples daily. To take the test, a person blows into a straw, and the device analyzes their breath. The tests must be carried out by an operator under the supervision of a qualified health care professional. 
How did the COVID-19 breath test receive an EUA? 
The FDA granted an EUA to the COVID-19 breath test after analyzing the results of a study of more than 2,400 people who were tested using the device. During the study, people with and without active symptoms of COVID-19 illness had their breath samples analyzed for the chemical compounds that are associated with an infection with the SARS-CoV-2 virus. These samples were then compared to an established control testing method for a definitive diagnosis of COVID-19 infection. 
How reliable is the COVID-19 breath test? 
In the study that led to the InspectIR COVID-19 Breathalyzer's EUA by the FDA, the device was shown to be 91.2 percent sensitive (meaning it correctly identified positive samples with 91.2 percent accuracy) and 99.3 percent specific (meaning it correctly identified negative samples with 99.3 percent accuracy). In the study population that was tested, only a small percentage of participants were positive for the virus in the first place (slightly more than 4 percent), and the test was able to correctly identify negative tests even when the population's disease activity was very low. The test's sensitivity was upheld in a follow-up study that assessed its effectiveness in diagnosing the Omicron variant, as well. While it is very reliable as a screening tool, a confirmatory PCR-based test is still recommended following a positive breath test, according to the test developer, InspectIR Systems. 
How available is the COVID-19 breath test? 
The InspectIR COVID-19 Breathalyzer device will be rolled out to settings such as hospitals, mobile testing sites, and office clinics progressively over the coming months. According to a mid-April press release by the FDA, about 100 of these devices will be produced each week, which will increase testing capacity by about 64,000 samples per month. 
How much does a COVID-19 breath test cost? 
The company that produces the InspectIR COVID-19 Breathalyzer device notes that, due to its rapid result generation capabilities, it is ideal for conducting screening in places of high volume, such as hospitals, nursing homes, or institutional settings — and it will be leasing devices to these settings. As the technology is very early to the market, it's difficult to say with certainty how much a test will cost an individual. However, in an interview with ABC News, the Chief Operations Officer of InspectIR Systems noted that the goal is to reduce the cost per test to between $10 and $12, to make it commensurate with other rapid testing options that are currently available. 
Who is eligible for a COVID-19 breath test? 
According to a fact sheet provided by Inspect IR Systems to the FDA, any adult who is age 18 or older and can reliably produce a sample of exhaled air is eligible to be tested using the Inspect IR COVID-19 Breathalyzer. To qualify for a test, a person is not required to have active symptoms of COVID-19, but the test may also be used to screen a person who is actively ill. 
How to learn more about the COVID-19 breath test 
If you are interested in learning more about the FDA's recent EUA of the InspectIR COVID-19 Breathalyzer device, make sure to check out their press release. 
Research and materials for this article were compiled, written, and distributed on behalf of the National Public Health Information Coalition. The views and opinions expressed in this blog are those of the various authors and do not necessarily reflect the official policy or position of the National Public Health Information Coalition or its members. 
References: 
Coronavirus (COVID-19) Update: FDA Authorizes First COVID-19 Diagnostic Test Using Breath Samples. https://www.fda.gov/news-events/press-announcements/coronavirus-covid-19-update-fda-authorizes-first-covid-19-diagnostic-test-using-breath-samples 
The First COVID-19 Breathalyzer Test Is Coming to the U.S. https://inspect-ir.com/inspectir-featured-in-time-magazine/ 
FDA authorizes 1st COVID-19' breathalyzer' test. https://abcnews.go.com/Health/fda-authorizes-1st-covid-19-breathalyzer-test/story?id=84099986 
Fact Sheet for Healthcare Providers. https://www.fda.gov/media/157721/download