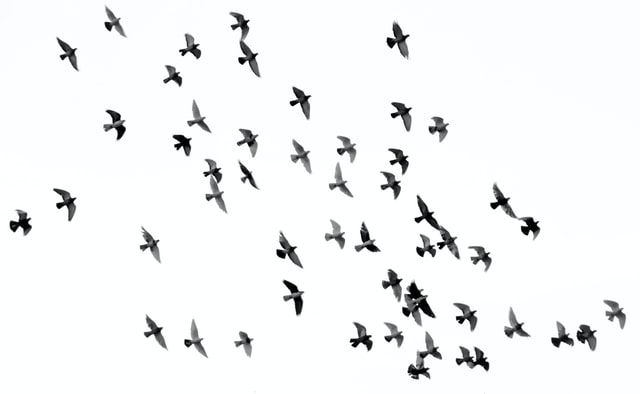 Something to Watch Like a Hawk: Recent Avian Flu Outbreak in Wild Birds and Domestic and Commercial Poultry
A highly pathogenic bird flu virus (H5N1) has infected more than 40 wild bird species and is now sweeping through U.S. farms and chicken yards. It has spread to at least 30 states less than two months after the first outbreak was reported in a commercial flock. This strain of bird flu virus has turned up in everything from crows to pelicans to bald eagles.
Nearly 24 million birds have died either because they died from the virus or were killed to prevent its spread. According to the Des Moines Register, some farms have had to kill more than 5 million chickens at a single site. The goal is to destroy the birds within 24 hours to limit the spread of the disease and prevent animals from suffering.
This avian influenza can decimate flocks within days. According to an NPR report, it's the worst U.S. outbreak of the avian flu since 2015, when more than 50 million birds died.
Comparison between 2015 Outbreak and Current Outbreak
According to Yahoo! News, about 1.3% of all U.S. chickens have been affected by this outbreak, and about 6% of the U.S. turkey flock, said Grady Ferguson, a senior research analyst for Gro Intelligence, an agriculture data platform.
Ferguson tracked the last major outbreak of bird flu in 2015, saying that this outbreak has the potential to be more significant and disruptive to the poultry and egg markets. During the last epidemic, at this point in the outbreak, 66 days after the first detection, the percentage of total chickens affected was .02%, ultimately climbing to around 2.5% of chickens infected and 50 million birds destroyed.
Severe Economic Impact
As a result, the outbreak is driving up consumer prices for eggs and chicken meat that had already risen due to inflation. According to the USDA, the price of a dozen eggs in November hovered around $1. Right now, that price is $2.95 and rising.
Ferguson said in addition to higher prices for a carton of a dozen eggs, consumers "will see higher prices for all baked goods and a wide variety of processed foods from cupcakes to salad dressing. Restaurants are going to have a harder time justifying why they should give you a three-egg omelet for a dollar. And on the chicken meat side, the situation is also worse this time than it was last time."
For the week of April 6, the average U.S. price of chicken breasts rose to $3.93 per pound at major supermarkets — sharply higher than the previous week's $3.14 price. A year ago, the price was $2.48, the USDA says.
Low Risk of Transmission to Humans
Based on available epidemiologic and virologic information about these viruses, CDC believes that the risk to the general public's health from current H5N1 bird flu viruses is low. However, some people may have job-related or recreational exposures to birds that put them at higher risk of infection. CDC will watch this situation closely and take routine preparedness and prevention measures if this virus poses a more significant human health risk.
The only person known to have contracted this particular bird flu virus was an older adult in the United Kingdom who lived in close quarters with ducks; while some of the ducks got sick and died, their owner never had any symptoms.
The CDC has been monitoring the health of more than 500 people in 25 states who were exposed to infected birds. Although a few dozen people did develop flu-like symptoms, all were tested, and none were positive for this virus.
Also, the virus does not pose a special risk to the nation's food supply; the CDC states that, like any poultry or eggs, proper handling and heating food to an internal temperature of 165˚F kills any bacteria and viruses present, including any HPAI viruses.
Biosecurity Precautions to Prevent Spread of HPAI
All poultry owners must take appropriate biosecurity precautions to prevent the spread of this devastating disease. Here are a few critical biosecurity practices for farmers and backyard hobbyists to implement immediately:
Keep your poultry away from other birds.
Immediately clean up feed spills to discourage wild birds on your premises.
Sanitize boots, hands, and tools before entering your flock premises.
Do not visit other premises with birds.
Limit visitors to only those essential for business.
Outlook
If this virus sticks around in wild bird populations — which some scientists think is likely — poultry farmers may need to just learn to live with this problem.
References:
Iowa, U.S. farmers face a grisly chore after bird flu hits flocks (desmoinesregister.com)
A new deadly bird flu is infecting wild birds and may not go away : NPR
Avian flu has spread to 27 states, sharply driving up egg prices (yahoo.com)
pywretailchicken.pdf (usda.gov)
H5N1 Bird Flu Poses Low Risk to the Public (cdc.gov)
Recent Bird Flu Infections in U.S. Wild Birds and Poultry Pose a Low Risk to the Public | Avian Influenza (Flu) (cdc.gov)