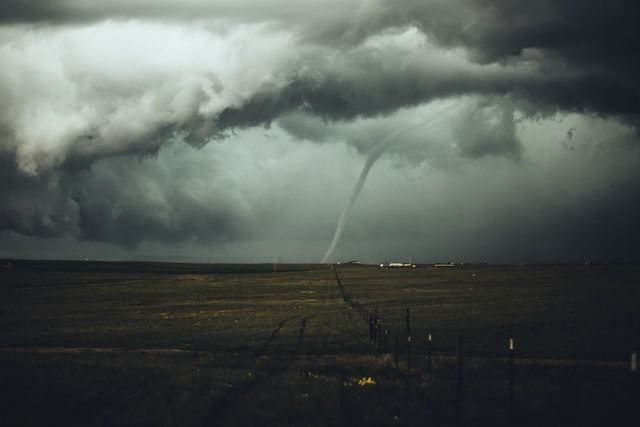 April Showers Bring May Flowers | Tornado and Severe Weather Awareness

Just as people in the general public likely keep a roadside emergency kit in their vehicles, it's equally important for them to be prepared in advance of severe weather events. In the United States, springtime represents an opportune season for public health communicators and emergency management teams to help people audit their emergency preparedness plans so they're ready in advance for severe weather events. 
Here's what you need to know about statewide severe weather awareness weeks, and how to help the public prepare for severe weather events. 
How States Recognize Severe Weather Preparedness Season 
Each state in the United States has a different way of preparing its communities to combat severe weather events. This is because each state has unique weather patterns, warning systems, and emergency response plans. For example, in Wisconsin, Tornado and Severe Weather Awareness Week takes place the first week of April, with pre-established times for tornado drills so everyone can practice seeking shelter quickly. In Texas, residents prepare earlier in the year, with Severe Weather Awareness Week running from February 20- 26. 
Planning for the Worst 
People who work in crisis communications and public health management should use this month to communicate to the public about how to get a household ready for a worst-case weather scenario. Severe weather can creep up quickly, leaving residents without time to prepare in the moment of crisis. Especially in states that frequently experience tornados, it's essential to know what to do beforehand. 
Residents of Nashville, Tennessee, are well aware of the importance of tornado awareness, as a tornado outbreak that occurred in the spring of March 2020 struck at nighttime and claimed 25 lives. Those who live in Joplin, Missouri, and Tuscaloosa, Alabama, also likely remember the tornados that struck in the late spring of 2011, which were the two costliest tornados in the past 70 years, according to the National Oceanic and Atmospheric Administration (NOAA). Being aware of the tornado risk in your community—and assisting the public in learning what to do—is crucial. 
Practicing Tornado Awareness 
According to the National Weather Service, a tornado is a rotating column of air that maintains contact with the ground. These spinning columns can be violent, and they usually develop from thunderstorms. The speed of the winds in a tornado can range from 65 miles per hour to 318 miles per hour. A tornado watch is issued when weather conditions are favorable for the development of a tornado. A tornado warning is issued when a tornado has actually been identified. During a tornado warning, the American Red Cross recommends that people seek immediate shelter. 
Here are a few tips when it comes to sheltering safely from a tornado: 
Avoid the top floor rooms of houses or buildings, as well as exterior rooms and rooms with windows.

 

Do not go outside, into a vehicle, underneath a bridge, or into a mobile home.

 

Optimal places to shelter during a tornado include a basement, indoor stairwell, the lowest level of a house or sturdy building, or an interior room with no windows.

 

Protect from falling debris by covering the head and neck.

 
During any emergency response planning process, it's also helpful for people to identify the nearest designated storm shelter in their community. 
What to Have Ready in Case of Severe Weather 
When a community is vulnerable to severe weather, it's best to be prepared with a pre-packed emergency kit. 
Here are some important components of an emergency kit, which can be helpful while sheltering during a tornado, severe thunderstorm, extreme flooding, or otherwise: 
Water

 

Non-perishable food items

 

A lighter

 

A flashlight

 

First aid kit

 
A whistle

 

A warm blanket

 

Sturdy shoes

 

Important medicines

 

Hygiene items

 
It's also important for the public to take into account any pets in a household and include them in this planning. You can learn more about building an emergency kit, here. 
How to Monitor for Severe Weather 
Public health communicators and emergency response teams should emphasize that the first step of monitoring for severe weather in any community is being aware of the seasonality of weather events in a local region. This helps deter being caught off-guard. 
Paying attention to regional meteorology reports by listening to local radio, watching local television, or visiting the National Weather Service's storm prediction center or social media account can help keep communities safe. 
For more about weather preparedness efforts in your state, visit NOAA's awareness weeks site. 
Research and materials for this article were compiled, written, and distributed on behalf of the National Public Health Information Coalition. The views and opinions expressed in this blog are those of the various authors and do not necessarily reflect the official policy or position of the National Public Health Information Coalition or its members. 
References: 
[1] Tornado and Severe Weather Awareness Week is April 4-8, 2022. https://dpi.wi.gov/sites/default/files/imce/sspw/2022TSAWschool_packet.pdf 
[2] Texas Severe Weather Awareness Webpage. https://www.weather.gov/lub/swaw 
[3] 'Pretty much like an explosion': Day after brutal Nashville tornadoes that killed 25 people, 3 still missing. https://www.usatoday.com/story/news/nation/2020/03/04/nashville-tornado-2020-at-least-24-dead/4950680002/ 
[4] The 10 Costliest U.S. Tornadoes since 1950. https://www.spc.noaa.gov/faq/tornado/damage$.htm 
[5] Tornado Safety. https://www.redcross.org/get-help/how-to-prepare-for-emergencies/types-of-emergencies/tornado.html 
[6] Build a Kit. https://www.ready.gov/kit 
[7] Tornado Preparedness. https://www.nsc.org/home-safety/safety-topics/emergency-preparedness/tornado 
[8] Storm Prediction Center. https://www.spc.noaa.gov