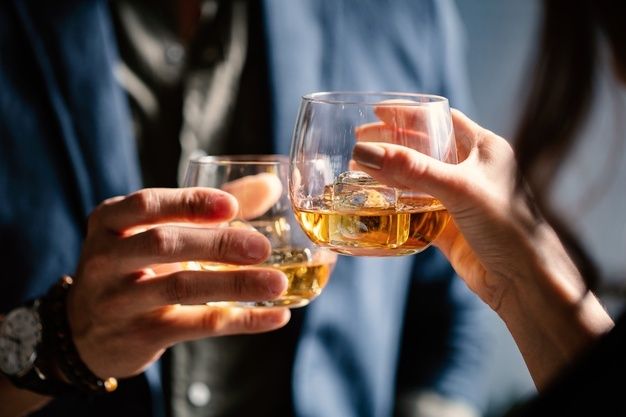 Dry January: How to Take a Break from Alcohol after the Holidays
It's no secret that drinking habits tend to swell during the holidays. And compounded by a global pandemic, researchers found that US adults drank 14 percent more frequently than in previous years. 
Dry January is a growing trend in America and Europe in which people start the new year by abstaining from alcohol use for a month. This may be seen as part of a larger movement of increased mindfulness. 
Here's some information about how Dry January can benefit your health and how to participate in a month (or more) of sobriety. 
Tips on How to Do Dry January 
If you wish to participate in Dry January, the most important thing is to set realistic goals and have a plan to help you reach them. Get friends and family involved, whether they participate or function as a support system, as social affirmations are the backbone of organizations that champion sobriety. 
Avoid triggers. Pass on brunch, after-work hangs, or other activities that you associate with drinking—at least temporarily. You should also anticipate urges and plan how to weather liquid cravings. For example, take a walk or do a few minutes of meditation. If alcohol helps you cope with stress, it's important to find alternative distractions. Exercise is top of the list or take up a hobby or tackle that home project you've long set aside. 
Shake off an "all or nothing" attitude. If you have a beer mid-month, don't use it as an excuse to resume your normal drinking behaviors. Even a partially dry January can benefit your health. And if your resolution is simply to drink less, track your habits. A drinking journal, drinking tracker card, or various sobriety apps can help keep you motivated. 
The Harm of Drinking Too Often 
Excessive drinking is associated with several negative effects on your health. It can impact brain function (mood, behavior, ability to think clearly and move with coordination), heart health, and liver function. Heavy drinking can impair sleep patterns, contribute to high blood pressure, and increase the risk of cancer, heart disease, stroke, and liver disease. Drinking a lot further weakens your immune system, making you more vulnerable to infections and illness. 
Wellness Trend 
Although people reported drinking more during the pandemic, they also became more aware and proactive regarding their health. The adoption of wearable devices like Fitbit and Apple watches supports this trend. The more people are involved in their health, the more the health space leans toward prevention and wellness rather than treatment—giving way to campaigns like Dry January. With mindfulness apps and other health trackers, it is easier than ever to commit to a month of sober living. 
How Did Dry January Get Started? 
As a formal campaign, Dry January was launched by the UK charity Alcohol Concern in 2013. Dry January was registered as a trademark in 2014, and by 2015, Alcohol Concern solidified a partnership with Public Health England. Since then, many other national organizations in Europe, America, and Canada have adopted similar platforms. 
The concept, however, has been around much longer. As a public health concern, the Finnish government may have been the first to embrace "Sober January" in 1942 to reduce the harm caused by alcohol as part of the war effort. Today, Dry January is thought of as a way to "reset" your drinking habits, particularly following the holiday season. 
Beyond January—Drinking Less in the New Year 
Dry January provides an opportunity to break out of certain patterns and routines, and importantly, reevaluate your relationship with alcohol after not drinking for a month. 
Remember, your tolerance to alcohol will be lower after abstaining; however, you will gain a more realistic understanding of how much alcohol you can drink and maintain a balanced and healthy lifestyle. In fact, a study found the benefits of Dry January often last the whole year and influence how much people drink for months after. 
How Drinking Alcohol Affects Your Health 
While a month off might not reverse long-term health effects, it can certainly take a load off your liver. In a 2018 peer-reviewed study, health markers for blood pressure, liver function, insulin resistance, and cancer growth factors improved in drinkers who abstained even temporarily. 
You may sleep better and experience an increase in energy, and you may be more motivated to exercise and be more focused at work. But truly, the biggest benefit of Dry January is how it will make you feel—mentally, socially, and physically. 
Research and materials for this article were compiled, written, and distributed on behalf of the National Public Health Information Coalition. The views and opinions expressed in this blog are those of the various authors and do not necessarily reflect the official policy or position of the National Public Health Information Coalition or its members. 
References: