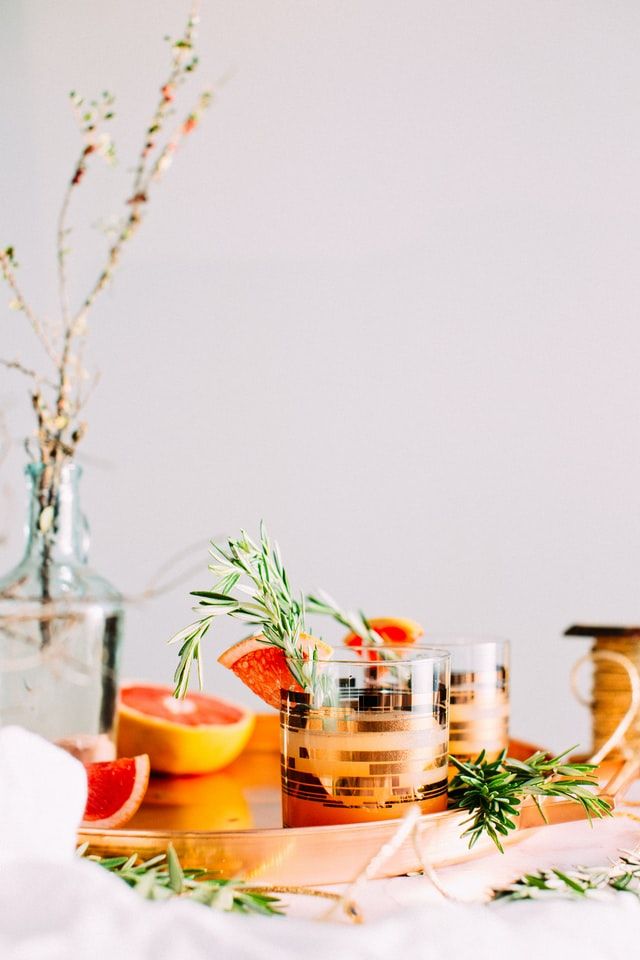 Four Healthy Holiday Habits
As the saying goes, "If you fail to plan, you plan to fail," and that is true for navigating the holiday season of parties and festivities. It's essential to enter the holiday season with a plan of mindfulness and moderation. If you go in with the right mindset, you can enjoy that half cup of rum-spiked eggnog without guilt or weight gain. 
Part of successful planning is knowing some facts and stats about holiday food and alcohol consumption. For example, according to Harvard Health, by eating just 200 extra calories a day, you could pack on two to three pounds over the five- to six-week holiday period. 
When you consider a half cup of eggnog is 170 to 190 calories, 9 grams of fat, and 11 to 14 grams of added sugars plus 65 calories of an ounce of rum, you can exceed that 200-calorie minimum pretty quick. While wine and other cocktails aren't as bad as spiked eggnog, they still average between 100 and 225 calories per glass, so again, it doesn't take much to go over your limit. 
With these facts in mind, it may seem daunting to manage your weight during this period, but if you practice the four habits below, you will be in good shape! So, let's follow some tips for exercising consistently, practicing healthy eating, drinking moderately, and sleeping soundly. 
1. Get Physical 
Put on your cozy winter boots and go for regular walks or take hikes with family and friends. 
Invest in a pedometer so you can measure how many paces you're making in a day. The goal is 10,000 steps per day. 
Take the stairs whenever possible. 
If you're hosting a party, play some fun holiday music and get people dancing instead of eating. 
Go for a walk after the holiday event to work off some of those calories. 
Holiday hack idea: The Huffington Post suggests signing up for a race to support a cause. 
2. Watch Out for Those Hungry Eyes 
Don't go to a party on an empty stomach because it will be difficult to resist all the temptations that you see. 
Bring a healthy dish. 
Keep portions small. 
Don't hover around the food or beverage table. Focus on mingling with others. 
Don't skip meals to save up for a big dinner. 
The CDC suggests, if you have a sweet treat, you should cut back on other carbs (like potatoes and bread) during the meal. 
Practice the 80-20 rule. If you eat well 80 percent of the time, there's room for 20 percent indulgence. Rigid or limited diets fail around holiday time. This rule allows for balance, moderation, and enjoyment. 
Holiday hack idea: The CDC recommends going for the pumpkin pie rather than pecan. Even with a little bit of whipped cream, you'll cut calories and sugar by at least a third. 
3. Curb the Number of "Spirits" You Lift 
Hydration and moderation are essential to managing your alcohol consumption during the holidays. 
Harvard Health suggests drinking a glass of water or juice-flavored seltzer in between drinks. 
Don't drink on an empty stomach because it increases your appetite and will lead you to eat more than you need. 
Avoid the high-calorie, sugary mixed drinks and stick with a glass of wine. 
Snack on healthy appetizers throughout the party, particularly veggies, to keep yourself occupied and less focused on drinking. 
Be prepared to resist peer pressure. It's okay to say "no, thank you." 
Remember, the purpose of going to or hosting a party is to create memories, so don't drink so much that it ends up being a blur. 
Holiday hack idea: Use real fruit juices when making cocktails instead of sweet and sour mix, which is loaded with sugars. 
4. Get Some Shut-Eye 
Getting quality rest during the holiday season is crucial for making good, healthy food choices. 
The CDC recommends that you aim for 7 to 8 hours per night to guard against mindless eating. 
To help get those hours of sleep, try to make your room as dark as possible, turn off your electronics, and make the temperature cool. 
Holiday hack idea: Take a couple of 10-minute power naps during the day to stay fresh. 
These healthy habits can enable you to have a very merry holiday and position you to start 2022 without adding "losing weight" to your list of New Year's resolutions. You can do it! 
And remember the holidays aren't about special food and drinks, they are about spending time with your friends and family. 
Research and materials for this article were compiled, written, and distributed on behalf of the National Public Health Information Coalition. The views and opinions expressed in this blog are those of the various authors and do not necessarily reflect the official policy or position of the National Public Health Information Coalition or its members. 
References