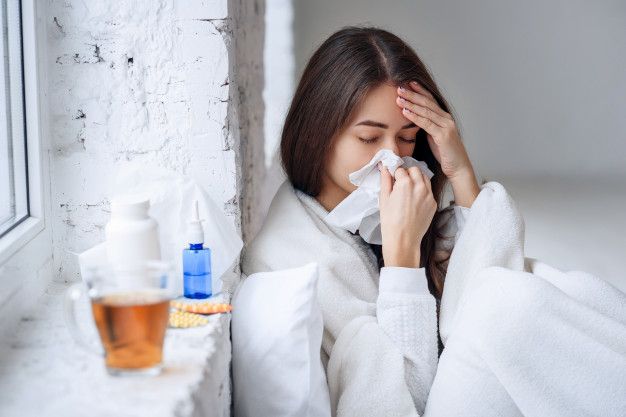 CDC's National Influenza Vaccination Week Is December 6-12
At the end of each year, we look forward to gathering with friends and family to celebrate the holidays. However, it is also the time of year seasonal influenza rears its ugly head. 
Following a 2020 holiday season that kept many families apart, people are looking forward to enjoying a traditional holiday season. However, safety remains an outsized concern this year, and your best shot at protecting yourself and your loved ones is to get vaccinated against the flu. 
This year, December 6-12, marks the start of National Influenza Vaccination Week. Getting this year's flu vaccine is an excellent way to show your family and friends how much you care. And if you are still waiting to get a COVID-19 vaccine or booster shot, you can get them at the same time. 
Why Is Getting a Flu Shot Important? 
Every winter season sees an uptick in community spread illnesses — for one, viruses can live longer in colder temperatures, and people spend more time in enclosed spaces. This means longer periods of time spent in the "breathing zone." Therefore, dry cold winter conditions are ripe for the easy transmission of germs. 
If you need only one incentive to get a flu shot this year, do it to avoid serious illness and potential hospitalization. Compounded by the ongoing threat of COVID-19, hospitals remain consistently overwhelmed, and the ability to deliver care is often strained. The flu, like SARS-CoV-2, can result in severe respiratory complications and death — in fact, as many as 69,000 Americans die from the seasonal flu each year. 
Why Should You Get a Flu Shot? 
As your immune system weakens over time, age and poor health are compelling factors for getting a flu shot. But even if you are young and healthy, the benefit of a flu vaccine is the protection it extends to all the people you come in contact with. If you plan on gathering in big groups or with older family members this holiday season, get vaccinated ahead of time to prevent their exposure to the flu or COVID-19. 
Additionally, if you have loved ones that are immunocompromised, they may be taking medications that impede their immune response. Some loved ones may suffer from an autoimmune disorder or a condition that already taxes their immune system like cardiovascular disease, diabetes, cancer, and psychological stress — flu and COVID-19 vaccines are necessary to keep these individuals safe. 
Who Can Get the Flu Vaccine? 
The CDC recommends anyone six months and older get an age-appropriate flu vaccine. The vaccine is safe for almost everyone. The rare cases in which the vaccine is not indicated is if someone has a severe, life-threatening allergy to one of the vaccine ingredients (like gelatin and antibiotics) or experiences an allergic reaction to a previous flu vaccine dose. These individuals should talk to their doctor about their options. 
If you are eligible, it is completely safe to get a flu vaccine at the same time as your COVID-19 vaccine or booster vaccine. Whether you go to your primary care provider or another health facility, make sure to cover all your bases this winter season! 
How Effective Is the Flu Vaccine? 
Flu shots are extremely effective, especially when the vaccine matches the circulating strain, which can reduce the likelihood of needing medical treatment by a whopping 40 percent to 60 percent. Last winter alone, scientists estimated that flu vaccines prevented 7.5 million people from getting sick, 3.7 million doctor's visits, 105,000 hospitalizations, and 6,300 flu-associated deaths. The CDC regularly conducts studies to test the effectiveness of each season's flu vaccine to protect the population from influenza illness. 
The flu vaccine is especially important as a tool to help mitigate infection in people with certain chronic conditions, elderly patients, and pregnant women who are at higher risk of experiencing serious illness. Furthermore, the flu shot can save the lives of children by reducing the risk of flu-related death by more than half. 
How Can You Distinguish Between the Flu and COVID-19? 
Influenza and COVID-19 present similar symptoms, but they come on differently (the flu is usually associated with rapid onset, whereas COVID-19 "limps along") and require different treatments. Flu symptoms, including fever, cough, sore throat, body aches and fatigue, and gastrointestinal problems, respond to influenza antiviral drugs. However, these drugs will not reduce similar symptoms due to COVID-19. 
For complete protection against respiratory viruses, be sure to get vaccinated against both the seasonal flu and COVID-19 this winter. 
Research and materials for this article were compiled, written, and distributed on behalf of the National Public Health Information Coalition. The views and opinions expressed in this blog are those of the various authors and do not necessarily reflect the official policy or position of the National Public Health Information Coalition or its members. 
References