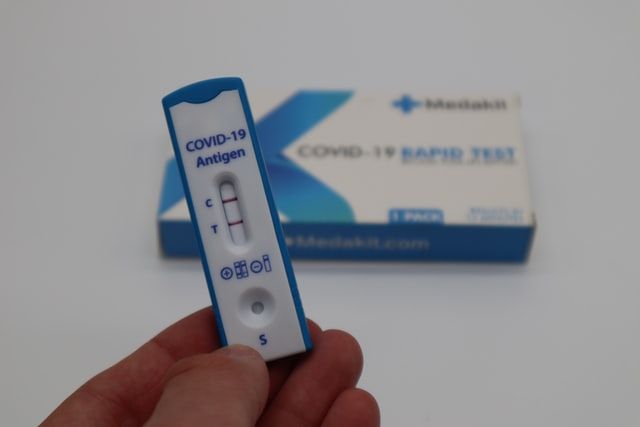 Home COVID-19 Tests - How Many Should You Keep on Hand?
Even though many state-run COVID-19 testing clinics are closing, the SARS-CoV-2 virus has far from disappeared. New Omicron variants infect thousands of people daily across the nation, and the need for reliable and readily-accessible tests remains high. One of the most efficient ways to keep up with COVID-19 detection and surveillance for yourself and your family is to use a home testing kit. However, the availability of home testing runs the gamut, and many people have questions about this alternate testing option. 
Here's what you need to know about home COVID-19 tests, including whether you should stockpile home COVID-19 tests, how many you should keep on hand at home, where to find at-home COVID-19 tests, and how closely you should keep an eye on test expiration dates. 
To Stockpile Tests, or Not to Stockpile? 
Stockpiling might be an automatic reflex at this point in the pandemic after families have been hit with random shortages of ubiquities like toilet paper and baby formula. However, stockpiling home COVID-19 tests may not be the most prudent strategy. Real-time community COVID-19 detection and surveillance have been hindered multiple times over the past two years because of testing shortages. Stockpiling — or hoarding — tests can lead to testing scarcity, making it difficult for people who require a test result immediately to get the clarification they need. In fact, during the first Omicron surge in January 2022, health experts urged people not to stockpile kits for this reason. Instead, judicious use of tests, keeping in mind the needs of your community, is the best practice. 
How Many Tests Is Enough to Keep at Home? 
There is no hard and fast guideline regarding how many COVID-19 tests to keep on hand. However, using the US Centers for Disease Control and Prevention (CDC) 's guidelines on when to take an at-home COVID-19 test can be helpful as a reference. According to these guidelines, you should take a home test: 
If you or a family member are experiencing any COVID-19 symptoms

 

If you were exposed to someone with COVID-19 (if a first test is negative, the CDC recommends testing again in 1 or 2 days), and then,

 

Before going to an indoor event or gathering, especially if people who are particularly vulnerable to COVID-19 may be present

 
Given these guidelines, consider how many tests you may need for each person in your household — two, potentially, to cover an unforeseen exposure to COVID-19 or acute COVID-19 illness, and perhaps a couple more if you're planning on attending a major event soon. Then, multiply that number by the number of people in your household. A family of three, for example, may want to consider keeping 9 to 12 tests on hand. 
Another helpful guide is to consider how many tests are included in each round of free at-home COVID-19 tests from the Biden administration: 8. 
Where to Find an At-Home COVID-19 Test 
You may be discouraged when looking for at-home COVID-19 tests on the shelves of your local grocery store or pharmacy, especially if you're searching the moment someone in your family comes down with a fever or cough. The best idea is to launch your search before you actually need the test. Many companies, such as Walmart, Walgreens, and CVS, offer online sales of at-home COVID-19 tests. You may be able to use an FSA or HSA card to purchase these or receive reimbursement afterward, depending on your health insurance plan. Most insurers are required to cover the cost of 8 tests per month for each individual on the health plan. Make sure to also utilize the free at-home COVID-19 tests available from the Biden administration, available for order here. 
How to Manage Test Expiration Dates 
Once you've got a home collection of COVID-19 tests, you'll need to ensure that you are keeping track of how long the tests will be reliable. Home tests have shelf lives that range from 4 months to 18 months. The U.S. Food and Drug Administration (FDA) has a helpful home testing website that can assist you in checking the shelf life of each authorized brand of test. Many of the home tests available have had their shelf lives extended because their manufacturers have submitted data that shows effectiveness beyond their original estimates when they were first authorized. This is why it's a good idea to consult the status of the expiration date of your specific test before deciding whether or not to use it. Using an expired test can affect the validity of your test result, rendering it meaningless, but the test may be used for longer than what is printed on the packaging. 
How to Learn More About Home COVID-19 Tests 
To learn more about at-home COVID-19 tests, make sure to check out the CDC's home testing site. 
References 
[1] Medical Professionals Urge People Not to Stockpile COVID-19 Rapid Tests. https://www.nbcconnecticut.com/news/coronavirus/medical-professionals-urge-people-not-to-stockpile-covid-19-rapid-tests/2688721/ 
[2] When To Take an At-Home COVID-19 Test. https://www.cdc.gov/coronavirus/2019-ncov/testing/self-testing.html#:~:text=Self%2Dtests%20can%20also,FDA%20EUA%20Testsexternal%20icon 
[3] At-Home OTC COVID-19 Diagnostic Tests. https://www.fda.gov/medical-devices/coronavirus-covid-19-and-medical-devices/home-otc-covid-19-diagnostic-tests?utm_source=CDRHTwitterD 
[4] How to get your At-Home Over-The-Counter COVID-19 Test for Free. https://www.cms.gov/how-to-get-your-at-home-OTC-COVID-19-test-for-free