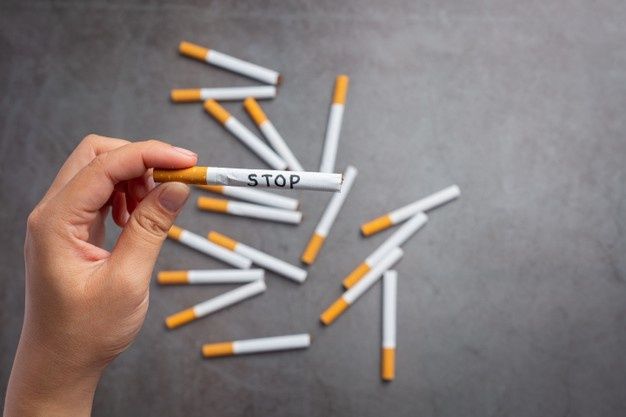 Quit Smoking this Winter: No Ifs, Ands, or Buts
It is the beginning of 2022—time to put your new year's resolution to quit smoking into action. 
It's going to take a lot of discipline and patience when you consider some of the eye-opening facts and stats about smoking and withdrawal, but hopefully, if you implement the guidance below, you'll be one of the success stories. 
There are 1 billion smokers worldwide. As reported by CNN Health, of more than 2,000 people surveyed about their resolutions at the end of 2016 by research consultancy Populus, 175 (8 percent) had chosen to quit smoking, but only 41 percent of those 175 kept it going until January 31. Just 13 percent remained smoke-free at the end of the year. 
According to the University of Chicago Medicine, tobacco use kills more Americans than alcohol, car accidents, HIV, guns, and illegal drugs combined. Tobacco smoke contains more than 7,000 chemicals, according to the U.S. Centers for Disease Control and Prevention (CDC). Hundreds of these chemicals are harmful, and about 70 can cause cancer. 
The University of Chicago Medicine reported findings from a study from the United Kingdom's Royal Society of Public Health. The study found that "quitting smoking is the most difficult resolution to keep." Only 4 percent of those who attempt to quit smoking unaided remain smoke-free one year later. Another study from the University of Scranton found only 8 percent of people who make resolutions meet their goals. This is known as "false hope syndrome." 
The first week can be the hardest, said psychiatrist Dr. Andrea King, with frequent and intense cravings. When you stop smoking, your body and brain must get used to not having nicotine. You may have some uncomfortable symptoms, such as feelings of anxiety or a hard time concentrating or sleeping. Over time, withdrawal symptoms will fade if you stay smoke-free. 
According to Spine-health, it usually takes at least 8-12 weeks for an individual to start feeling more comfortable without smoking. 
Step #1: Begin Your New Year's Resolution with a Plan to Quit Smoking 
Make your resolution achievable and measurable on a day-to-day basis. Dr. King recommends to wannabe quitters: 
Use evidence-based approaches and seek professional support.

 

Expect setbacks and occasional lapses.

 

Be prepared to start over but commit to keep trying.

 

If the goal of quitting altogether seems too challenging, set a goal of reducing smoking.

 

Line up support in advance.

 
Step #2: Create a Tobacco-free Tool Kit 
Ask your doctor about nicotine replacement therapy, smoking cessation classes, counseling, and medication. Chew gum to ease cravings. 
Exercise can also provide a huge boost and help prevent weight gain when smokers eat when they feel the urge to light up. Instead, go for long walks. Try to work in running, biking, or swimming as your pre-smoking stamina gradually comes back. Exercising with friends is even better. Don't get discouraged if this fails. Think about what went wrong and try again. 
Step #3: Reward Yourself for Progress 
Use the savings from expensive cigarettes and spend it on something you enjoy. And enjoy the gradual return of specific health benefits. According to Dr. King, carbon-monoxide levels in your blood will go down within days. The risk of a heart attack declines within a month. The odds of lung and oral cancers should steadily decrease over the next 10 years to near-normal levels. 
Step #4: Prepare for and Manage Withdrawal 
The CDC lists seven common nicotine withdrawal symptoms. Knowing what to expect in advance may help you keep on track to quit for good. 
Having urges or cravings to smoke

 

Feeling irritated, grouchy, or upset

 

Feeling jumpy or restless

 
Having a hard time concentrating

 

Having trouble sleeping

 

Feeling hungrier or gaining weight

 

Feeling anxious, sad, or depressed

 
The CDC offers the following tips to battle these symptoms: 
Enlist the help from a "quit coach" who you can contact when you have an urge and who can help you stay on track.

 

Make your environment work for you—get rid of tobacco products, get support from others, and avoid temptations.

 

Distract yourself with other activities.

 

Find safe substitutes for cigarettes like toothpicks, straws, or cinnamon sticks.

 

Listen to what the urge says, then talk back!

 
Ride the waves! Let the urges come and go.

 

Adjust your medicine.

 
While feeling withdrawal symptoms, remind yourself that you likely think this way because your body is getting used to being without nicotine. Take a few deep breaths and remind yourself why you're quitting. 
Good luck on your smoke-free journey—you can do it! 
Research and materials for this article were compiled, written, and distributed on behalf of the National Public Health Information Coalition. The views and opinions expressed in this blog are those of the various authors and do not necessarily reflect the official policy or position of the National Public Health Information Coalition or its members. 
References: