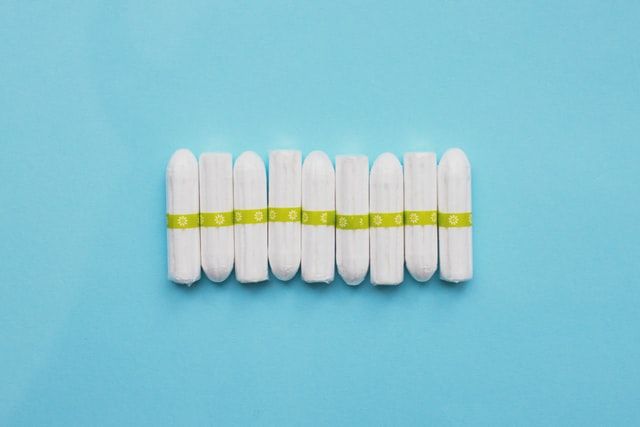 Period Poverty and a New Connecticut Law Addressing Menstrual Equity
If you've ever needed a menstrual hygiene product but didn't have one at your disposal, then you know the agony and discomfort associated with not having access to menstrual supplies. Unfortunately, for many menstruating students across the country, lacking access to menstrual products is not an uncommon occurrence. In fact, estimates show that period poverty, defined as a "lack of access to menstrual products, menstrual health education, hygiene management, waste facilities or any combination of these barriers," affects nearly a quarter of teens in the state of Connecticut alone. 
Whether you are a member of the general public or a public health communicator, the only way to confront the issue of menstrual inequity—and its impact on education and public health—is through advocacy. 
Here's what you need to know about period poverty and a new Connecticut law that requires schools to offer free menstrual products to all students in 3rd through 12th grade. 
What is "Period Poverty?" 
When menstruating people can't afford period products or are forced to choose between purchasing food or purchasing menstrual supplies, they are considered to be experiencing period poverty. Period poverty can have devastating impacts on everyone who experiences it, causing shame and reduced social engagement, and it can be especially detrimental to the school-aged population. 
Across the country, studies show that twenty percent of students report having personally missed school due to a lack of menstrual products. What's more, 85 percent of students have reported missing class time or knowing someone who did because of a lack of access to period products. Certain benefit programs, such as the Supplemental Nutrition Assistance Program (SNAP), do not provide for the purchase of menstrual supplies, and research has shown that, according to the Connecticut Department of Public Health, "more than a third of parents have worried about their ability to afford period products." 
What Advocacy is Being Done Around Menstrual Equity? 
Fortunately, lawmakers and public health advocates are addressing menstrual equity through legislation. In Connecticut, for example, a new act recently passed that requires local and regional boards of education to provide free menstrual products to students without stigmatizing them. 
Some key aspects of this new law include: 
Installing coin-free dispensers or other storage methods (such as drawers or baskets) in schools that serve children in 3

rd

through 12

th

grade.

 

Including this free access in all women's restrooms and all-gender restrooms, and in at least one men's restroom.

 

Posting a flyer in each bathroom publicizing the obligation of the school to provide access to these products at all times of day, and information about how to inform the program's head when supplies are low.

 

Ensuring that certain bathrooms have lined trash receptacles for disposing of menstrual products.

 

Raising awareness about the availability of these products and including campaigns in the curriculum that educate students about using these products to destigmatize them.

 
Other states that have undertaken campaigns to alleviate period poverty include California, which has passed legislation requiring public colleges to provide free period products. Additionally, 15 states have passed legislation to end the sales tax on period products. Nationally, a bill addressing period poverty was introduced in the House of Representatives in December 2022. However, it subsequently died in committee. 
How Does Menstrual Equity Connect to Public Health? 
Advocates for menstrual equity have made the case that period products should be equated with toilet paper, as both are essential items that manage biological processes. When menstrual products are not available to those who cannot afford their own or are away from home, public health suffers. Those who are menstruating may be forced to use products not traditionally meant to manage menstrual flows—such as napkins, paper towels, or even newspapers. They may also feel the need to reuse products that are designated as single-use only or use products for longer than is deemed safe, which can put them at risk of serious infections and complications such as toxic shock syndrome (TSS). 
How to Find More Resources About Menstrual Health Education 
A number of resources exist to help raise awareness about period poverty and the importance of menstrual health education. Check out Girls Helping Girls for more information, as well as Period, a national non-profit working on research and advocacy efforts for those affected by period poverty. 
Research and materials for this article were compiled, written, and distributed on behalf of the National Public Health Information Coalition. The views and opinions expressed in this blog are those of the various authors and do not necessarily reflect the official policy or position of the National Public Health Information Coalition or its members. 
References 
[1] CDPH: Guidance and FAQ: Menstrual Equity in Connecticut Public Schools. https://qrcgcustomers.s3-eu-west-1.amazonaws.com/account25235076/362648681.pdf?0.9492370727575277&utmsource=newsletter4083&utmmedium=email&utm_campaign=nphic-news-highlights 
[2] State of the Period. https://cdn.shopify.com/s/files/1/0795/1599/files/State-of-the-Period-white-paperThinxPERIOD.pdf 
[3] An Act Concerning Menstrual Products. https://www.cga.ct.gov/2022/fc/pdf/2022HB-05272-R000468-FC.pdf 
[4] When The Flow Turns into a Movement. https://www.njea.org/when-the-flow-turns-into-a-movement/ 
[5] US Congress House Bill 9504. https://legiscan.com/US/bill/HB9504/2021 
[6] Toxic Shock Syndrome. https://my.clevelandclinic.org/health/diseases/15437-toxic-shock-syndrome