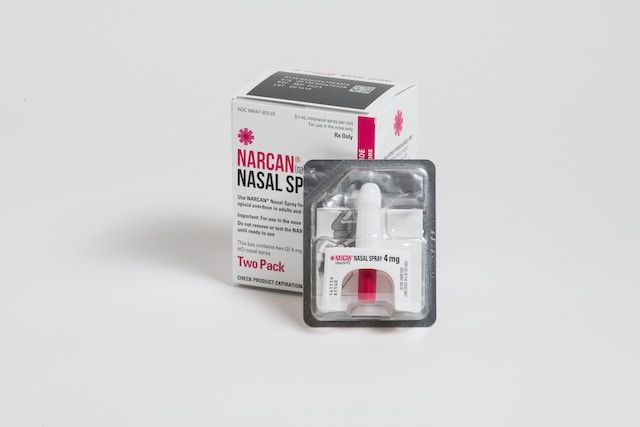 Narcan Nasal Spray Being Approved as an Over-the-Counter Treatment
Narcan is a life-saving nasal spray that can prevent an accidental opioid overdose. As the opioid epidemic maintains its hold on the U.S., public health agencies have advocated for the increased availability of Narcan to individuals and families. 
Last March, the U.S. Food and Drug Administration (FDA) approved Narcan as an over the counter (OTC) treatment, making it easier for the general public to treat opioid overdoses. The FDA approval represents a milestone in the country's efforts to combat the opioid epidemic. This article reviews the use of Narcan, details of the FDA's decision, and what this milestone means for communities across the U.S. 
Narcan and Its Use 
Narcan is the brand name of the drug naloxone, a standard treatment that quickly reverses the effects of opioid overdose. Narcan is an opioid antagonist that attaches to opioid receptors, changing and blocking the effects of other opioids in the body. 
Narcan is effective on overdoses of opioids like codeine, heroin, fentanyl, hydrocodone, morphine, and oxycodone. When sprayed into the nostril, the medication can restore healthy respiratory function within 2-3 minutes in someone whose breathing has slowed or stopped due to an overdose. A second dose may be necessary if the victim has fentanyl in their system. 
Narcan can not reverse the effects of drugs other than opioids and is ineffective in treating opioid use disorder (OUD). It also does not work on overdoses of other drugs like methamphetamine or cocaine. 
Narcan is safe and easy to use, and it is small enough to carry or store in a medicine cabinet away from children's reach. Many police officers, emergency medical technicians, and other first responders have Narcan on hand to help people in crisis. Individuals at risk or loved ones who know someone at risk for overdose can also keep a supply of Narcan to use in an emergency. Friends and family members can ask a pharmacist or their doctor about the proper use of the Narcan device. 
Narcan Will Soon Be Available Over the Counter 
Late last March, the FDA approved the distribution of the Narcan 4mg-dose nasal spray without a prescription, the first form of naxolone to be available as an OTC medication. The availability of Narcan as an OTC drug makes it easier for families and loved ones of people with opioid addiction to have this life-saving medication on hand. The recent approval allows people to obtain it online or buy it directly off the shelf at pharmacies, convenience stores, grocery stores, and gas stations. 
However, it may still take months for the OTC version of Narcan to be available in stores. The FDA continues to work with relevant stakeholders to make Narcan accessible as soon as possible. Individuals can still obtain prescriptions for Narcan from their healthcare providers. 
What to Do If You Suspect an Opioid Overdose 
The opioid epidemic has affected people of every culture, region, and walk of life. There were over 80,000 opioid-related deaths in 2021 in the U.S. You can prepare for an opioid crisis and provide treatment by learning the symptoms of an overdose, which include: 
Faint heartbeat

 

Inability or difficulty speaking

 
Lack of consciousness

 

Limp arms and legs

 

Pale skin

 

Purple fingernails and lips

 

Shallow or slow breathing

 
Having Narcan available is an appropriate strategy for everyone. If you struggle with OUD or think you might be near someone who suffers an opioid overdose, consider keeping Narcan with you or at home. If you use opioid medication or cope with OUD, let someone else know, so they can have Narcan ready for emergency use. 
Anyone can administer Narcan to anyone they suspect is suffering from an overdose. You do not need special training or certification to use the nasal spray. 
To use Narcan, spray one dose of the medication into one nostril when the victim is lying on their back. If the victim does not wake up after about five minutes, administer another dose. If the victim's symptoms are due to an overdose of another drug or some other condition, Narcan will not harm them. 
Because Narcan's effects only last 30-90 minutes, getting immediate medical attention is crucial to survival and recovery. As with any medical emergency, you should call 911 in addition to administering Narcan. Also, try to position the person on their side to prevent choking or asphyxiating due to vomiting, and keep them awake and breathing. Stay with the victim until help arrives or for at least four hours to ensure they can resume normal breathing. 
Research and materials for this article were compiled, written, and distributed on behalf of the National Public Health Information Coalition. The views and opinions expressed in this blog are those of the various authors and do not necessarily reflect the official policy or position of the National Public Health Information Coalition or its members. 
References