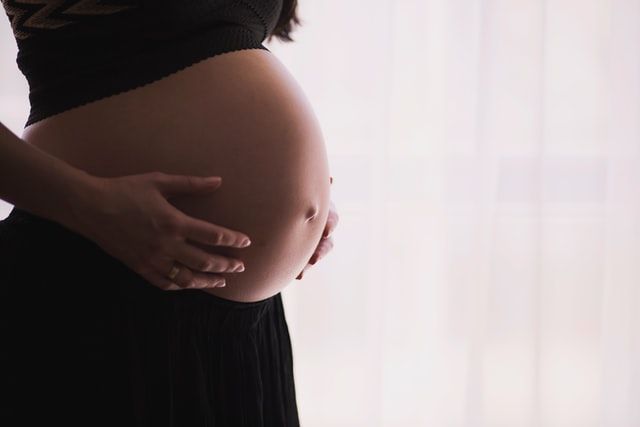 Pregnant People Hit Hard by Flu, but Many Remain Unvaccinated 
Flu season came early this year, and the Centers for Disease Control and Prevention (CDC) recently released a report that shows a sharp increase in pregnant people hospitalized for flu. It's no coincidence that these hospitalizations are happening alongside lower flu vaccination rates this season. The Influenza Hospital Surveillance Network (FluSurv-NET) data shows that 46.5% of women aged 15-44 hospitalized for flu were pregnant. 
Pregnant people are at a higher risk of complications and hospitalizations due to the flu. As a result, reduced vaccination rates are a danger to the health of the pregnant person and the fetus. The flu vaccine can lessen the severity of the illness if you do get sick and helps prevent you from getting the flu. It also reduces the chance of other high-risk groups getting it, including young children. 
How Have Flu Vaccination Rates Affected Hospitalizations? 
According to a recent report from the CDC, data collected from 14 hospitals across the United States shows a 20% increase in hospitalizations of pregnant people for the flu compared to the 2018-2019 flu season. 
While part of the rise may coincide with increased flu testing, where we see more positive tests, vaccination rates have lowered across many groups. The most notable decreases in vaccinations have happened among non-Hispanic Asian pregnant people at a 15.5% drop and non-Hispanic white pregnant people at a 14.2% drop. Overall, non-Hispanic Black pregnant people have the lowest flu vaccination rates, with a total of 20.4% getting the vaccine this season. 
When pregnant people get vaccinated, the CDC says it reduces their chance of getting the flu by an average of half and lowers their risk of hospitalization by 40%. Without the flu shot, your risk for complications and hospitalization is automatically higher. Not getting the flu vaccine can also impact your developing baby. 
Babies can't get the flu vaccine before six months old. By getting the vaccine yourself, some of the immunity you receive from it also goes to your baby. The benefits of that immunity carry over to protect your child after they're born so that they are less susceptible to the flu in their first few months of life. That's even more vital, as the CDC also reported 21 child deaths so far this season. 
What Do Pregnant People Need to Know About the Flu? 
When you're pregnant, your body is doing important work as your developing baby grows. That kind of work wears on the body, and it can affect your organs, including your heart and lungs, and it can lower your immunity to illnesses like the flu. 
During pregnancy, there's a chance that you and your baby can experience more serious consequences of getting sick, including birth defects and premature labor. If you have them, you can also develop pneumonia, become dehydrated, develop secondary infections, and worsen existing chronic medical conditions. 
It's already been an intense season for flu and other illnesses, as what some are calling the "tripledemic" of flu, COVID, and RSV has caused increased hospitalizations. With fewer people getting vaccinated, there's an increased risk of getting the flu without that extra protection. When you're pregnant, even if you've had the flu before and recovered well, it doesn't mean you don't need to be conscious of how the flu can affect you, specifically during pregnancy, as these changes to your body can make you react differently even to common viral illnesses. 
How Can Pregnant People Stay Protected During Flu Season? 
Getting the flu vaccine is one of the easiest and most important ways to protect yourself and your developing baby. The vaccine is safe for pregnant people and fetuses, though getting the vaccine in the form of a nasal spray is not recommended for pregnant people. By getting the flu vaccine every year, you lower your risk of becoming ill and experiencing potentially serious complications that can come with it. 
Protection against the flu goes beyond getting the vaccine, too. You can do other things to protect yourself against the flu while pregnant, though these practices also apply beyond pregnancy. Avoid close contact with sick people as much as possible so as not to expose yourself to the flu or other viral illnesses. Stay hydrated to flush viruses and bacteria from your body and maintain good personal hygiene. Washing your hands and avoiding touching your face will go a long way toward preventing viruses from entering your body through your mouth, nose, and eyes. 
If you do get the flu, take care of yourself by staying home, hydrating, and covering your mouth when you cough or sneeze to avoid spreading the illness to others. 
Getting the flu vaccine only takes a few minutes, and you can typically get yours through your doctor's office or a local pharmacy. If you're not sure where to get yours, you can find a location at vaccines.gov. 
Research and materials for this article were compiled, written, and distributed on behalf of the National Public Health Information Coalition. The views and opinions expressed in this blog are those of the various authors and do not necessarily reflect the official policy or position of the National Public Health Information Coalition or its members.