Khalilah A. LeGrand, Ed.D
Immediate Past President & Representing Region VII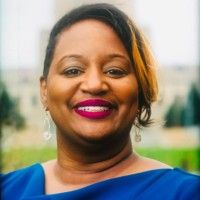 Nebraska Department of Health and Human Services Chief of Staff, Office of the CEO 301 Centennial Mall S Lincoln, NE 68508
Phone: (402) 471-9313
Khalilah LeGrand is the Director of Communications at the Nebraska Department of Health and Human Services (DHHS). DHHS is the largest state agency in Nebraska with a budget of approximately $3.5 billion under the direction of CEO Dannette R. Smith. She joined the Department in 2019. In this role, LeGrand is the lead spokesperson for the Department and oversees a team comprised of public information officers, graphic designers, and a web, digital and social media team. The Department has five major divisions: Behavioral Health, Children and Family Services, Developmental Disabilities, Medicaid Long-Term Care and Public Health. Passionate about sharing positive and impactful stories and effective communication, she provides strategic leadership and employs multifaceted communications strategy to support these divisions, executive leadership. She often collaborates with the administrative team for Governor Pete Ricketts. Prior to joining DHHS, LeGrand was the Senior Director of Communications and Media Relations for Norfolk Public Schools in Norfolk, VA, the largest urban school district in the eastern region of the state with approximately 32K students and 5K staff.

LeGrand has worked as an adjunct instructor at Tidewater Community College (TCC), Northern Virginia Community College (NVCC), Bryant and Stratton College and ECPI University teaching Public Speaking, Communications, Information Literacy, and Student Development courses. She holds a Doctorate of Organizational Leadership from Nova Southeastern University in Florida, a Master of Arts in Communications/Public Relations from Norfolk State University; Bachelor of Science degrees in both Psychology and Merchandise Marketing from Old Dominion University and studied at Mukogawa Women's University in Japan.

With over 15 years of professional and volunteer experience, she has led and worked on various initiatives relating to small business and underserved groups in the capacity of community outreach, public relations and business development. Previous positions held include Assistant Director for the Virginia Center for Healthy Small Business, Public Relations and Fund Development Director, Peninsula Institute for Community Health PICH) and Eastern Virginia Director, Virginia Minority Supplier Development Council (VMSDC).